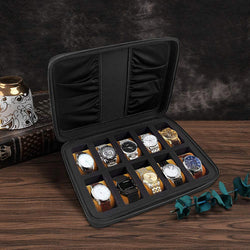 10 Slots Waterproof Case Box Organizer™
NOT SOLD IN STORES.
If you own a watch or a collection of watches you need this exquisite 6 slot case made from premium quality materials to protect and safely display your time piece collection. The Luxor Watch Display Case Box Organizer is made for you the proud collector and watch owner.
LIMITED EDITION TO 150 TIME PIECES. 
Overall Dimensions 11.82"L x 4.33"W x 3.25"H with plenty of space between the lid and cushions to accommodate different size watches (30mm-50mm). Each watch cushion holds a small or large watch neatly in place.
LIMIT 1 PER CUSTOMER
Top Reason to Order From Us:
✅ Super Fast Free Shipping
✅ Award Winning Customer Support
✅ Hassle Free Fast Returns
✅ 5-Year Unlimited Factory Warranty
✅ Free Worldwide Shipping
✅ 90 Days Money Back Guarantee